New "Curricula" Tab
Teachers and admins now have a new Curricula tab, which makes it easier than ever to find ready-to-use fun activities, exit tickets, lessons with built-in assessments, and item banks by standard.
Teacher, admins, and curriculum/assessment managers can also drag-and-drop upload custom assets for teams to easily access by standard.

Go to your Lessons/Assessments tab, click "Curricula," choose your standards body, and then select grade and subject.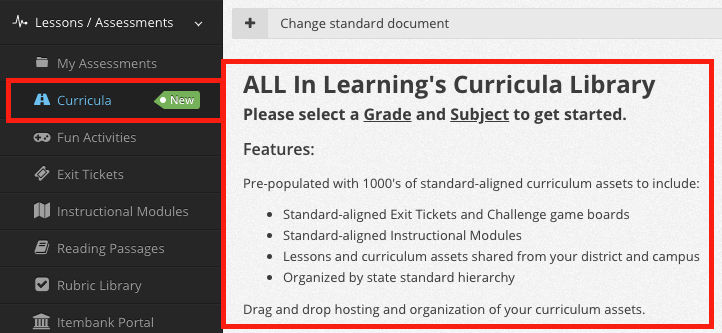 You'll see the content available by the standard, grade, and subject you chose.

See this support article for more info about the Curricula tab.>>
PLUS MORE IN THIS UPDATE!

Fixed: Issues surrounding student time-out and security kick-out events.

Optimizations to increase performance efficiency during heavy usage.

Fixed: Issue adding Item Bank questions to ad hoc sessions. 

Improved messaging to users when they try to use secure sign-on with an unvalidated account. 

Improved Performance Reports (Domain Reports).