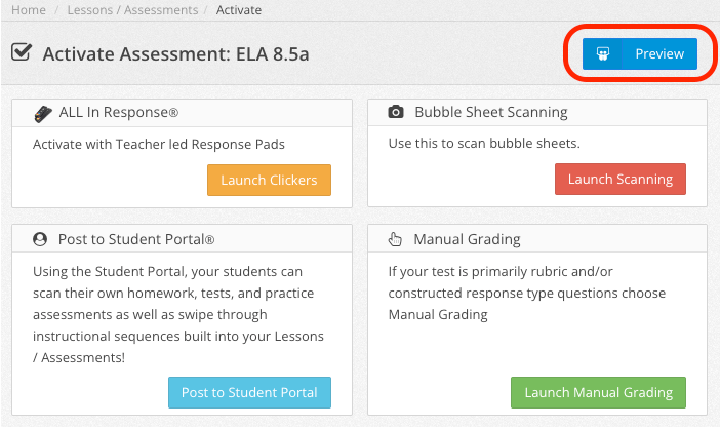 Teachers Can Preview Linked Assessments
When teachers click a link to activate a shared assessment (or evaluate it if it's optional) they can now preview the questions before activating.
Admin Student Portal Preview of Assessments
Admins can now preview how an assessment will look for students by going to Lessons/Assessments > [go to the assessment] > Actions > Preview.
Plus More!
We've also made these improvements, updates, and fixes:
Updated: When disabling "show correct answers," selected answers for questions students got correct are no longer displayed

Updated: Improved assessment link functionality

Updated: Optimized performance of WebClickers

Updated: Slider for manually graded TEI questions now match other sliders

Updated: Add practice mode option for Flat panel Interactives in Curricula tab

Updated: Clicker feedback grids in On-the-Fly and Teacher Paced modes has option by default to show which students have responded. Can be disabled by district Support request.

Fixed: Issue caused when Student Portal activations didn't have a question on the first slide.

Fixed: Removing assessment with reports from a PLC

Fixed: On mobile devices the Authentication Code numbers were cut off

Fixed: Searching for grade 1 exit tickets caused grade 10 tickets to show

Fixed: Unable to change the defined future date of an assessment window to a previous date

Fixed: Activating an assessment in a browser while it is already open in ASSIST caused error