Easy Collaboration
ALL In Learning facilitates the collaboration, data, and best practices for PLCs and data teams.   Sharing assessments, collecting results, and reviewing the data is simple.  Since the data collected is easy to view – see some of our sample PLC reports below, you can act quickly to intervene with the students who struggled.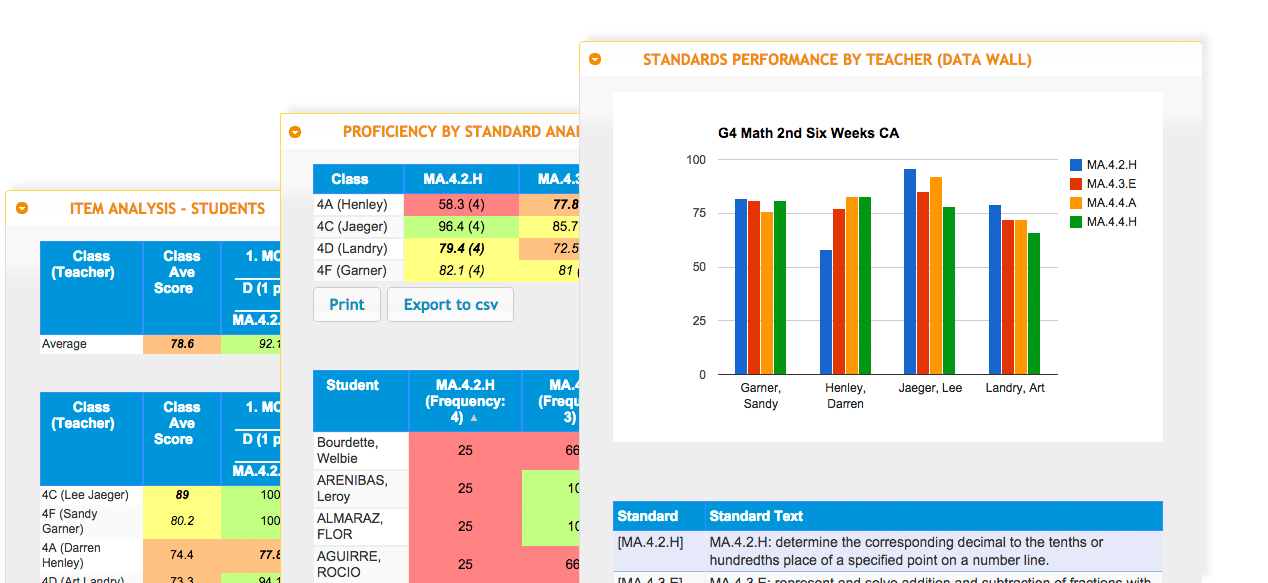 Our Comprehensive Reports Provide Invaluable Data
From the Front Lines
Best Use of PLCs and ALL In Learning
One of the best implementations of ALL In Learning and PLCs is targeted or chunked assessments done on a regular interval – once a week or every two weeks. Ideally, assessing 3 or 4 questions per standard provides a valid sample size to identify which students have mastered the concept and which ones need intervention. When teachers have data on how the students did that week, they quickly determine what did and didn't work and what changes should be made.
With frequent PLC data analysis, best practices within a PLC are easier to identify and replicate and much more timely.  The difficult process of "spiraling back" 6-8 weeks later is now eliminated with weekly data, analysis and remediation.
"All In Learning is a hit with our PLC … the data seems to compile itself."

"I literally use ALL In Learning in class every day to gather content mastery data."

"ALL In Learning has transformed the way we do exit tickets in my classroom."

"We can quickly and easily analyze data and make changes to our instruction… we spend time where they need help not on topics they already understand."

"In hybrid classes where I've struggled to get 100% participation, All In Learning has been amazing. I can show problems to all students and get feedback instantly and go over misconceptions."