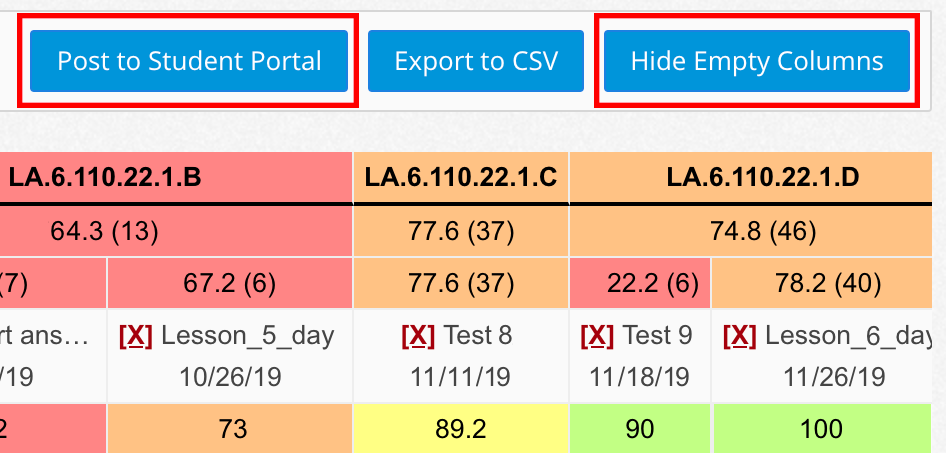 Wednesday December 5th, 2019
These features and improvements are now live!
Student Progress Tracker!
Students can now see their own progress tracker in the student portal, take more ownership of their strengths and weaknesses, and actively increase their mastery of standards day by day.
Teachers, to make progress trackers visible in the student portal, go to your tracker and click "Post to Student Portal."
Now students can see their individual tracker in their Progress Trackers tab.
Essays and Rubrics Viewable in Student Portal "Missed Question Report"
Now in the student portal, if a test had an essay/work question, students will be able to see in the Missed Question Report what they submitted, along with the rubric that was used to evaluate their work.
New Student Login Option at www.allinlearning.com
Instead of going to students.allinlearning.com to log in, students often go to allinlearning.com. So, we've added a drop-down on the Login menu there allowing both teachers and students to log in. Teachers may also find this easier when giving students login instructions.
New Teacher Progress Tracker Features
You can now hide empty columns in your progress tracker to only show standards that have data. No more scrolling, scrolling, scrolling!
You can also click a student's name in your tracker …
… and see only that student's data for parent/teacher conferences.
Change in Anomaly Reporting for Bubble Sheet Scanning
In the past, if a student filled in more than one bubble on a single-correct-answer question, it was automatically graded as incorrect. Now, we will highlight these instances as anomalies for you to look at and resolve.
Send Grades to PowerTeacher Pro!
Teachers using PowerTeacher Pro, your lives just got easier! Now you can magically beam your scores from ALL In Learning to PowerTeacher Pro by clicking Reports > Sessions > Actions > Send to PowerTeacher Pro. View this article for instructions.

Plus More!
A change in Apple's iOS made iPads unable to login to the Student Portal. This is now fixed.
Using PDF files with Engage & Learn is super easy for teachers. However, there was an annoyance for students, where advancing to the next question would cause the PDF view to jump back at the beginning, making them scroll down each time. This is now fixed.
ASSIST "Pause Session" button changed to "Leave Session Open."
Campus Admins' "add teacher" tool better handles when user exists at other campuses.
Improved UI in Edit Key & Standards, where on student work questions there was a slider that appeared not to do anything.
Improved error messaging for users trying to activate a paused Engage & Learn session with ASSIST.
Now alerting ASSIST users to scanning help articles when lots of scanning anomalies are detected (for example, they have reflections or poor lighting).
New option to copy Instruction Modules to your My Assessments list.
Fixed a problem with embedding videos on question slides.